SpellForce 2: Faith in Destiny Free Download PC Game in full repack or pre-installed version. SpellForce 2: Faith in Destiny was released on June 19, 2012.
About This Game
SpellForce 2: Faith in Destiny is a strategy with RPG elements in a dark fantasy setting. This sequel describes the events taking place after 4 years of the plot of the previous part of Spellforce 2: Dragon Storm. An ordinary guy named Shaikan dreams led to the wisest dragon. He will have to free the world from a new race of creatures called "nameless". While heroes and dragons have become staunch allies, they will work together to oppose the enigmatic race. The fate of the world of Eo now depends on the protagonist.
The strategy provides the player with a single-player campaign and a multiplayer mode, in which a new type of game "Domination" has been added. The gameplay is standard for RTS – you need to build buildings to gather an army and defeat your opponent. In the campaign, the player has access to troops and buildings of several armies. The hero gains experience for successfully completed tasks. The game offers new branches of character development with new skills and magical abilities. The correct tactic would be to rebuild and protect the base, strengthen it and develop it to the stage of creating a powerful army capable of destroying the opponent. Each faction can hire a special warrior – a Titan, who has great strength and considerable survivability. This add-on will definitely please fans of the series, and is also recommended for review by fans of other real-time strategies.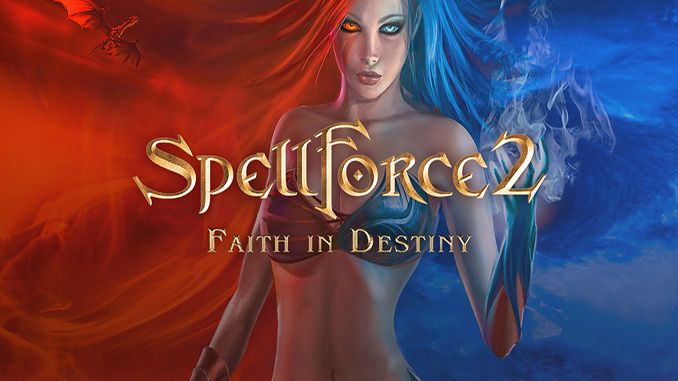 SpellForce 2: Faith in Destiny Free Download Link(s)
How to Download SpellForce 2: Faith in Destiny
– Click on the download button you prefer using a download client that you can get in this page (we recommend qbittorrent but you can also use other torrent download software you want).
Some useful tips that might help:
Solutions to problems with installation and launching the game. >
Torrent not downloading? Several reasons why it is not working. >
System Requirements
Make sure that your system meets the requirements in order to make the game work without problems.
Minimum:
OS: Win XP, Vista, Win7
Processor: Intel Pentium ® IV 1.5 GHz
Memory: 2 GB RAM
Graphics: 3D graphics card with 128 MB RAM (compatible with GeForce 4 Ti or higher)
DirectX®: 9.0c
Hard Drive: 5 GB HD space
Recommended:
OS: Win XP, Vista, Win7
Processor: Intel Pentium ® IV 2.5 GHz
Memory: 4 GB RAM
Graphics: 3D graphics card with 256 MB RAM (compatible with GeForce 6600 GT or higher)
DirectX®: 9.0c
Hard Drive: 5 GB HD space
Game-Media
Video from the game:
ScreenShots from the game: